Medical BDSM may not be my kink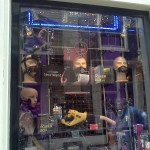 I knew an endoscopy was going to be unpleasant but this was so far off the scale, I couldn't even pretend it was some kind of BDSM medical scene where I'm wearing an O-ring gag while the very hot doctor feeds a very long cock down my throat. Why is it the doctors are always hot when they are going to see you in your most unattractive and unflattering moments?
I'm feeling a fair bit better today after being coddled by Math-geek yesterday. My throat is still very sore, but at least my stomach feels like it can handle more than tea and soup.
Now that I've finished a beta-read for Cora Seton, my June To Do list is back down to finishing Wilson and Hildy's story and with just one week left in June and Elianne Adams on my ass to get it finished, it is my one and only priority – other than blog posts, I suppose.
While I don't listen to music while I write, I usually have music running through my head. Often, it's an annoying earworm courtesy of TV advertising, but sometimes, it's something I can mentally play around with.
One thing I really enjoy is classical music that's been appropriated by rock/metal guitarists. While I'm not a fan of Mozart, in fact,  I find him mind-numbingly boring, I thought I'd give him another chance by wandering through YouTube to see if there was any good rock/metal versions of Eine Kleine Nachtmusik. Short version – they all sucked, no imagination, very little variation from the original score, and all virtually the same tempo.
This is the best version I've managed to come up with. Meh.
[kad_youtube url="http://www.youtube.com/watch?v=zLa5sOkyzqs" ]
Beethoven, is a very different story. Let's look at the Moonlight Sonata. The first movement is available from fairly true to score through to this interpretation.
[kad_youtube url="http://www.youtube.com/watch?v=pl6-b_8L99o" ]
The third movement is pretty metal friendly in its original form, but this is probably my favourite interpretation
[kad_youtube url="http://www.youtube.com/watch?v=MZuSaudKc68″ ]
Off to write smutty goodness, now.