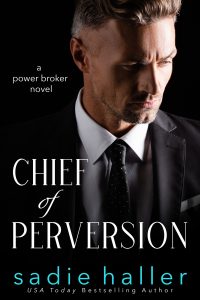 Chief of Perversion (Power Brokers 1)

Heath:
My relationships are nothing more than casual dating with booty-calls.
A one-hour-stand before my mother's wedding reception? Perfect.
Georgia:
I may have been born a romantic, but I've grown jaded about love. Being practically disowned by one's father will do that to a girl. Now all I want is solitude and the occasional anonymous pick-up.
Occasional? Okay, so I haven't managed that yet.
Daddy Dearest's wedding seems like a great place to start.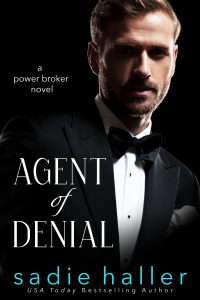 Agent of Denial (Power Brokers 2)
Alasdair:
She's not for me.
While a piece of me wants to wrap her in my arms and keep her safe, I know myself.
My dark sexual appetite, my feral underbelly.
If she gets too close, she'll discover a beast who will push her right to the very edge of sanity.
Katie:
After escaping a nightmare, I swore I'd never let myself be vulnerable again.
But then physical needs take over.
In a world with well over three billion men, there has to be one for me.
Not that it matters.
No man wants another's broken toys.