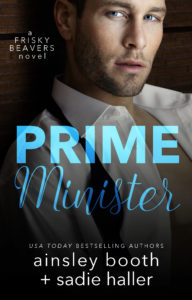 Prime Minister (Frisky Beavers, Book 1)
A kinky Prime Minister, a vanilla intern, and a scandal that shouldn't feel so right or cost so much.
Gavin:
Ellie Montague is smart, sensitive, and so gorgeous it hurts to look at her. She's also an intern in my office. The office of the Prime Minister of Canada.*
That's me. The PM.
She calls me that because when she calls me Sir, I get hard and she gets flustered, and as long as she's my intern, I can't twist my hands in her strawberry-blonde hair and show her what else I'd like her to do with that pretty pink mouth.**
Ellie:
How much I like the PM varies on a daily basis. He's intense, controlling, and a perfectionist in every way—and he demands the same of his staff.
How much I want him never wavers.
There's something about him that tugs at me deep inside, and makes me wish that just once he'd cross the line in a late night work session. I'd take that secret to the grave if it meant I got a taste of the barely restrained beast inside him.***
FOOTNOTES:
* This is a fictional erotic romance. No prime ministers or interns were harmed in the making of this book.
** Except it's a BDSM romance, so they were hurt a little.
*** Spoiler alert: she gets more than a taste. And she likes it.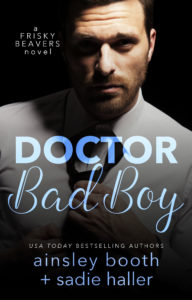 Dr. Bad Boy (Frisky Beavers, Book 2)
Max:
The first time I met Violet Roberts, she gave me her submission for the night. The second time I met her, it was across a boardroom and man, was she pissed.
Now she insists we have a "conflict of interest". She wants us to "move forward like grown-ups."
But I can't forget our single, scorching night together—when what I wanted and how I wanted it wasn't a problem, because it nailed all her kinky buttons, too.
Violet:
Max Donovan is a dirty, dirty man. Deliciously so. But the former child TV star turned renowned paediatrician and best friend to the prime minister is also my client.
One of us needs to be responsible, and it's not going to be him.
So why can't I forget how utterly incredible it was to be at his mercy? And what am I going to do when he takes his pursuit to the next level?
DIAGNOSIS:
* A serious case of a one-night stand gone wrong (but not until after it went very, very right).
PRESCRIPTION:
* Healthy boundaries and a double-dose of will power.
* Should that plan fail, the second course of treatment would be an air-tight contract and a solid cover story.
END NOTE:
* Real doctors and lawyers will likely be appalled at the professional infractions inside this (thankfully fictional) erotic romance. We recommend they start with Prime Minister, the first book in the Frisky Beavers series. By the time they finish Gavin and Ellie's book, they'll be so enamoured with Max that they'll forgive his transgressions in the pursuit of his filthy happily ever after ending.
(warning trailer is very, very NSFW)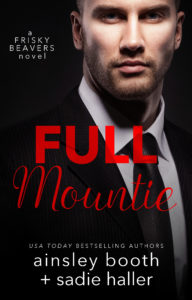 Lachlan:
365 days I've wanted Beth beneath me, begging for release. One long, angst-filled year we've circled each other, keeping things strictly professional.
But I've also got shit in my past that complicates relationships. And I should know better than to hope secrets can stay buried.
Hugh:
A year? Try ten. A decade ago, I let Lachlan walk away because deep down, I knew he needed something else.
As soon as I laid eyes on her, I understood what I was up against: he loves Beth. Looks at her in a way he'd never look at me.
I get it.
Curvy, smart, and bossy? I just might love her, too.
Beth:
Two men. Two first dates.
Two first kisses…
But this doesn't feel like a love triangle.
Oh no. It's much more complicated than that. I'm not complaining. I'm game for anything. I just have one rule: never at work.
SECURITY BRIEFING:
* Warning: there are no limits to these Mounties' willingness to please
* Never underestimate the strength of a woman
* Sometimes the past can come back and bite you…if you're lucky
* Top-secret clearance means three doesn't need to be a crowd