WELCOME NEW READERS!
I'm so glad you've found my website! Below are my most recent releases.
And if you want to sign up for my newsletter, CLICK HERE!
LATEST RELEASE: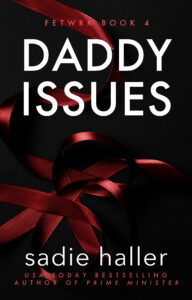 Daddy Issues, Fetwrk, Book 4

Looking for a kinky celebrity to call you Daddy?
There's an app for that.
The Hollywood rumour mill has a lot to say about Lis Green. So when she matches with me, looking for a particular kind of Dom, I have…misgivings.
But despite her reputation, she seems content to play on my terms, where I take care of her soft, sweet, innocent needs (in a very grown-up between consenting adults kind of way).
The thing is, if our secret hookups get discovered, those same rumours could torch my career. Can (Dare?) I risk it all and take a chance on love?
Coming October 22
Amazon | Apple | Barnes & Noble | Google | Kobo | Print Edition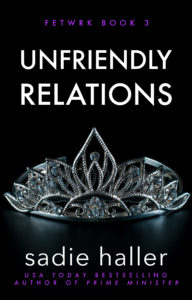 Unfriendly Relations, Fetwrk, Book 3
Looking to hook up with a potentially compatible kinky fellow aristocrat near you?
There's an app for that.
I'd imagined my wedding day countless times as a young girl, complete with Prince Charming.
True, there is a prince. But charming? Not even close.
Amazon | Apple | Barnes & Noble | Google | Kobo | Print Edition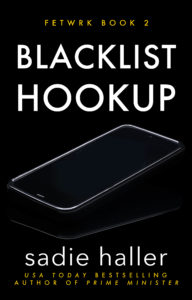 Blacklist Hookup, Fetwrk Book 2
Looking to hook up with a potentially compatible kinky fellow celebrity near you when nobody–literally nobody–can know you're the opposite of vanilla?
There's an app for that.
Quietly warn a fellow actress not to be alone with a certain producer and… BOOM. I'm dumped from Hollywood's A-list to everyone's blacklist in the blink of an upload. So when I accidentally swipe right on my ex, who is still very much a hot commodity in this town, I'm not about to tank his career along with mine. But Eli has questions, and I just might like the way he plans to wring the answers out of me.
Amazon | Apple | Barnes & Noble | Google | Kobo | Print Edition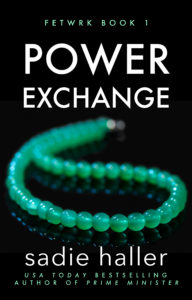 Power Exchange, Fetwrk Book 1
Want to hook up with a potentially compatible fellow celebrity near you?
There needs to be an app for that.
I have a quiet reputation for fixing the most sordid and tawdry of situations. Preventing them in the first place? For that, I'm going to need a little help. But what Stuart wants in return…
Amazon | Apple | Barnes & Noble | Google | Kobo | Print Edition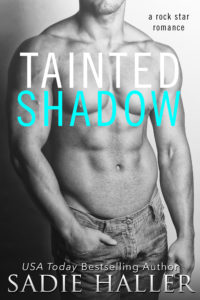 Tainted Shadow (Tainted Pearl 1)

Tainted Pearl's lead singer has a stalker problem and bodyguard Brody Clarke doesn't think twice about cutting his vacation short when he's asked to protect her.
Sparks fly—and not the good kind—when he rubs the rabidly independent rock star the wrong way. Now he needs to convince her that letting him be in control might just save her life.
And if it has the side benefit of turning those sparks into a completely different kind of heat? Brody's up for that kind of dominance as well.
Amazon | Apple | Barnes & Noble | Google | Kobo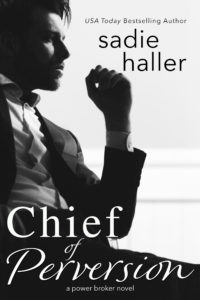 Chief of Perversion (Power Brokers 1)

Heath:
My relationships are nothing more than casual dating with booty-calls.
A one-hour-stand before my mother's wedding reception? Perfect.
Georgia:
I may have been born a romantic, but I've grown jaded about love. Being practically disowned by one's father will do that to a girl. Now all I want is solitude and the occasional anonymous pick-up.
Occasional? Okay, so I haven't managed that yet.
Daddy Dearest's wedding seems like a great place to start.
Amazon | Apple | Barnes & Noble | Google Play | Kobo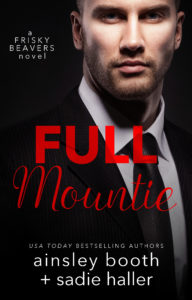 Full Mountie
Lachlan:
365 days I've wanted Beth beneath me, begging for release. One long, angst-filled year we've circled each other, keeping things strictly professional.
But I've also got shit in my past that complicates relationships. And I should know better than to hope secrets can stay buried.
Hugh:
A year? Try ten. A decade ago, I let Lachlan walk away because deep down, I knew he needed something else.
As soon as I laid eyes on her, I understood what I was up against: he loves Beth. Looks at her in a way he'd never look at me.
I get it.
Curvy, smart, and bossy? I just might love her, too.
Beth:
Two men. Two first dates.
Two first kisses…
But this doesn't feel like a love triangle.
Oh no. It's much more complicated than that. I'm not complaining. I'm game for anything. I just have one rule: never at work.
SECURITY BRIEFING:
* Warning: there are no limits to these Mounties' willingness to please
* Never underestimate the strength of a woman
* Sometimes the past can come back and bite you…if you're lucky
* Top-secret clearance means three doesn't need to be a crowd
Amazon | Apple | Barnes & Noble | Google | Kobo
*** make sure you're on our NEWSLETTER to get an update once all retailers are set up! Will be available at Kobo and Google Play as well ***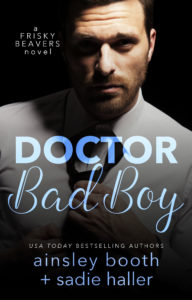 Dr. Bad Boy (Frisky Beavers, Book 2)
Max:
The first time I met Violet Roberts, she gave me her submission for the night. The second time I met her, it was across a boardroom and man, was she pissed.
Now she insists we have a "conflict of interest". She wants us to "move forward like grown-ups."
But I can't forget our single, scorching night together—when what I wanted and how I wanted it wasn't a problem, because it nailed all her kinky buttons, too.
Violet:
Max Donovan is a dirty, dirty man. Deliciously so. But the former child TV star turned renowned paediatrician and best friend to the prime minister is also my client.
One of us needs to be responsible, and it's not going to be him.
So why can't I forget how utterly incredible it was to be at his mercy? And what am I going to do when he takes his pursuit to the next level?
DIAGNOSIS:
* A serious case of a one-night stand gone wrong (but not until after it went very, very right).
PRESCRIPTION:
* Healthy boundaries and a double-dose of will power.
* Should that plan fail, the second course of treatment would be an air-tight contract and a solid cover story.
END NOTE:
* Real doctors and lawyers will likely be appalled at the professional infractions inside this (thankfully fictional) erotic romance. We recommend they start with Prime Minister, the first book in the Frisky Beavers series. By the time they finish Gavin and Ellie's book, they'll be so enamoured with Max that they'll forgive his transgressions in the pursuit of his filthy happily ever after ending.
Amazon | Apple | Barnes & Noble | Kobo
(warning trailer is very, very NSFW)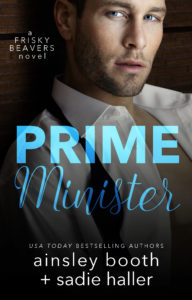 Prime Minister (Frisky Beavers, Book 1)
A kinky Prime Minister, a vanilla intern, and a scandal that shouldn't feel so right or cost so much.
Gavin:
Ellie Montague is smart, sensitive, and so gorgeous it hurts to look at her. She's also an intern in my office. The office of the Prime Minister of Canada.*
That's me. The PM.
She calls me that because when she calls me Sir, I get hard and she gets flustered, and as long as she's my intern, I can't twist my hands in her strawberry-blonde hair and show her what else I'd like her to do with that pretty pink mouth.**
Ellie:
How much I like the PM varies on a daily basis. He's intense, controlling, and a perfectionist in every way—and he demands the same of his staff.
How much I want him never wavers.
There's something about him that tugs at me deep inside, and makes me wish that just once he'd cross the line in a late night work session. I'd take that secret to the grave if it meant I got a taste of the barely restrained beast inside him.***
FOOTNOTES:
* This is a fictional erotic romance. No prime ministers or interns were harmed in the making of this book.
** Except it's a BDSM romance, so they were hurt a little.
*** Spoiler alert: she gets more than a taste. And she likes it.
Amazon | Apple | Barnes & Noble | Google | Kobo | Print Edition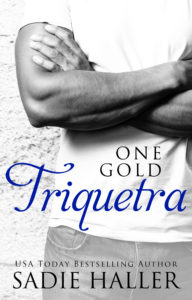 One Gold Triquetra (Dominant Cord, Book 3)
A decade ago, a bad play-date turned composer Ella Hudson off BDSM.
Now she's been offered a performance opportunity too good to pass up, but it means working closely with Jackson and Griffin–world class musicians, lovers, and Doms intent on adding her to their relationship.
While Ella struggles to deny her true desires, maintaining her vanilla facade becomes increasingly difficult as the men re-introduce her to a world she'd written off.
Amazon | Barnes & Noble | Google Play | Kobo | Print Edition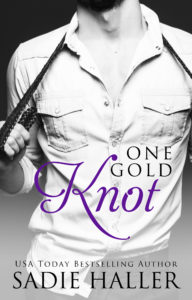 One Gold Knot, Dominant Cord Book 2
She didn't do relationships. She didn't even do all night.
After years of avoiding her teenage crush, Hildy Klein is shocked to come face to face with Wilson Kennedy.
Her uncle's wake isn't the place to unravel all the ways that Wilson could leave her emotionally vulnerable and exposed, yet his gentle persistence is impossible to ignore.
But Wilson is no longer that boy in her fantasies, and now Hildy must decide if she will give up control and commit to the protective, kinky Dom he's become.
Amazon | Apple | Barnes & Noble | Google Play | Kobo | Print Edition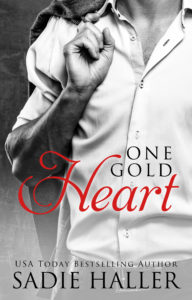 One Gold Heart, Dominant Cord Book 1
Finn Taylor is an asshole. So why does he keep showing up in Mac's late-night fantasies as the Dom of her dreams? She can't even ignore him, because she's stuck working with the fellow musician for the Christmas concert season.
Mac Wallis is a mess, and Finn can't fall for a submissive who's so damaged she needs medication just to get through a performance. But he's drawn to the beautiful oboist, even as he keeps pissing her off. He can't resist trying to take care of her–in every way.
Amazon | Apple | Barnes & Noble | Google Play | Kobo | Print Edition