Who I'm Reading – Bianca Sommerland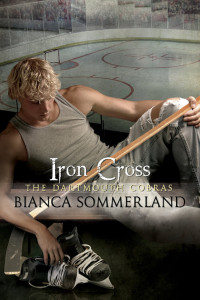 Bianca Sommerland is deliciously evil. I discovered she just released a new Dartmouth Cobras book, Iron Cross, and I absolutely had to read it. Immediately. The whole thing. In one sitting. I couldn't put it down long enough to even write a blog post yesterday, let alone work on One Gold Knot. I even thought I'd lost a day. I woke up this morning thinking it was Friday. Fortunately, Math-geek set me straight – it's only Thursday.
Iron Cross is the sixth book in the Dartmouth Cobras series and well worth the price of admission, but you really need to work your way up to it starting with book one, Game Misconduct, which is currently available as a freebie.