Love is… Flickering Light
On this last Sunday in August, our Love is…  author is Elianne Adams, who shares with us an excerpt from Flickering Light, a short prequel to Call of the Dragon, which has already been featured here on the Snippet O Smut.
Synopsis – Flickering Light
More than two decades after Queen Angelique's death, Barbara Morgan struggles to find the will to go on without the queen's light. The darkness invading her soul threatens not only her, but all of Avalore. The dragon deep within her spirit has gone dormant, refusing to face the hopelessness plaguing their people. Desperate for a break from the endless misery, she turns to Clay, igniting the passion sizzling between them for one glorious night. When the Elders announce the reigning queen still lives, Barbara faces the biggest decision of her life. Turn her back on Clay to join with her predestined mate, or condemn their entire race to extinction.
Clayton Matthews has wanted Barbara for as long as he can remember. Each day she slips farther and farther from his grasp. Stubborn gryphon that he is, he refuses to let her go, so when she turns to him for comfort he can't deny her. He doesn't want to. Their one night of passion isn't enough, and he wants so much more. He'd do anything to keep her safe, but can he step aside and watch the only woman he's ever loved be joined with another man?
Love is… Available at: Amazon, ARe, Barnes & Noble, iTunes & KOBO
[space_20]
[blockquote align=center]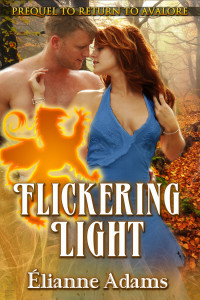 Clay took Barbara's mouth with a savagery he couldn't contain. He'd waited to hear those words from her for so long. The gryphon inside him clamored for release, demanding he possess her. She was safe in his home, in his arms, and he couldn't get enough. He kissed down the column of her neck, and back again, nipping at her delicate jaw. He devoured her, and what's more, he didn't want to stop. He wanted to get lost in her passion, in her warmth. Needing more contact, he pulled the wrap from her shoulders and tossed it aside, not caring whether it landed on the nearby chair or the floor next to it.
The heat of her skin heated his palms through the thin fabric covering her back. What in Goddess' name had she worn? Pulling back, he took in the sight of her. Long, fiery tresses fell to cover her chest, and he couldn't help but sweep them over her shoulders to clear his view. A thin, white nightdress hugged the curves of her breasts and hips. The darker circle of her nipples, visible through the delicate fabric, puckered under his gaze. Closing his eyes, he took several deep breaths before looking at her once more. "I need to see you. Just this once, I'd like to feast my eyes upon your body."
Her breasts rose and fell with her quick breaths, drawing his attention again. Though he had never seen the perfection of her body, he'd dreamt of it many times. He had wanted this woman for so long, and tonight, if she desired it, he would have her, all of her. She stepped back, putting a little more distance between them before taking the gown by the hem and lifting it free of her body. "Now you."
The soft lilt of her voice added to the madness invading him as he saw his heart's desire bared before him. He couldn't think. His dreams didn't come anywhere near the beauty before him. Her rosy nipples peaked and ready, begged for attention. He longed to taste them, draw the buds into his mouth and suckle until she writhed beneath him.
She closed the space between them, and when he still didn't remove his clothes, she slid her hands up his chest. With a feral growl, she twisted her fingers between two buttons, gripped the edges tight and pulled, the soft plink of the buttons loud as they hit the floor. Her eyes widened, and she moistened her lips, her eyes never leaving his chest. The animalistic display had his heart racing and his beast struggling to get to hers, to draw it out of hiding. Too long had her dragon been silent.
If tonight was all they'd ever have, he wanted it all. He let her pull the shirt from his shoulders, dropping it to the floor at their feet before pulling her close again. Her full breasts pressed against his chest, and it was all he could do to keep from taking her right there in the front foyer. He brought his hands down her back to her bottom, drawing her against his hard length again.
She shimmied against him with a small moan. "Take the rest off," she whispered before licking at the tender skin beneath his ear.
Clay took her mouth again in a wild mating of tongues, leaving them both breathless. He nipped at her lips, easing the sting with his tongue before plundering her mouth again and again. By the time he'd moved them from the entrance to his room, his clothes were gone, left scattered along the way.
"Are you certain this is what you want? Goddess help me, if it's not, I will find a way to stop." And he would. He didn't know how, but he would not take what she wasn't willing to give. His body shook with restraint as he brought her down to the bed, holding his weight on his elbows on either side of her.
"I'm certain." She brought a finger up to his chest, then slid it down his abdomen and lower still. When she reached the soft springy curls at the base of his shaft, he closed his eyes and held his breath, yet he kept himself still. If she wanted to explore his body, he'd allow it. She could do anything she wanted as long as she stayed with him. The fear of losing her was still too fresh, his soul too raw, for her to be anywhere but in his arms.
"Now, Clay, please. I need you." She wrapped her fingers around his rigid flesh.
The air rushed out of his lungs, ruffling her hair as she brought a leg up to circle his hips, urging him closer, guiding him where she wanted. His moan rumbled in his throat as he lowered himself, allowing his weight to press her deeper into the mattress. For a moment he couldn't move, couldn't breathe. Her energy slid against him like a warm tongue, lapping at his skin. Passion ignited her bright blue eyes, and he was powerless to deny her anything.
  [/blockquote]
[space_20]
Where to find Élianne Adams:
Twitter: @ElianneAdams https://twitter.com/ElianneAdams