Today's not so smutly snippet is if courtesy of Sidney Bristol's recently released His Marriage Bargain, the third book in her So Inked series
Synopsis
So Inked, Book 3
A woman who loves too much…
When Autumn's best friend proposes a pretend marriage, the chance to make all the kisses she's imagined real is too much for her to pass up. She seduces him with her body and enjoys pushing his boundaries and fulfilling their sexual fantasies—but her heart isn't supposed to be part of the bargain.
A man about to take his last breath…
Sammi has just weeks left to live out his dying wish—the white picket fence, the house and the wife. If Autumn is the last woman he gets to taste he'll die a lucky man. Her body, her heart—everything about her calls to him. But love isn't supposed to be in the plans.
In the crucible of passion, these two lovers will find out what they're really made from, and just how long I do lasts.
[blockquote align=center]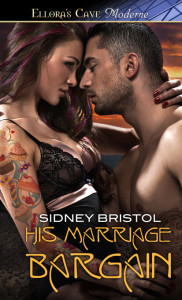 Autumn pinched her forearm. The sharp bite of pain told her everything she needed to know.
This is not a dream.
"Autumn?" Her best friend, Samuel "Sammi" Zimmerman lowered to one knee, placing his hand on her bare thigh. Fantasies, dreams of those same hands doing other things to her body were not far off.
"Oh—my—god." Autumn gaped at him. This couldn't be happening.
Sammi's gaze bored into her with an intensity she'd only ever imagined him turning on her. Usually he was talking business in rapid-fire language she didn't hope to understand. He'd taken a one-eighty and now it was as if she'd stepped onto the pedestal of importance in his life.
"It's just a question," he said.
Autumn pushed his hand off her leg. "It's a pretty serious question, if you ask me."
She needed to think. Actually use her brain. Reacting on emotions and engaging situations based on her feelings was her norm. This—this situation required thought.
Autumn stood and strode across the hardwood floors of Sammi's condo. Her heels clicked with an authoritative sound. Something about a great pair of stilettos always made Autumn feel a little more in charge, but that was typically because of the way it made her legs and ass appear to the opposite sex. She'd never been a saint. As a teen she'd been aware her body made men want to promise and do things for her. And she had no regrets she'd used it to her advantage. Or at least she'd thought so.
Not thinking about that now…
She wrestled her thoughts into the present but it was difficult. Sammi was a silent presence at her back. Autumn could smell his cologne. He may be close enough to touch but she didn't dare look at him. Looking at him short-circuited her brain. He was just too damn handsome. And knew it. He breathed confidence in all things, and right now she had none.
I'm really not dreaming?
"Can you run this by me one more time?" she asked.
Maybe if she wasn't looking at him, if his charm wasn't amped up to eleven and aimed at her, she could comprehend what he was asking of her.
Sammi stepped next to her and leaned against the glass window, hands in the pockets of his gray slacks. He had just enough stubble and a natural tan to appear the high-powered playboy he was. She'd pegged him as a "love 'em and leave 'em" kind of man the moment he stepped into the So Inked tattoo shop.
And she'd been right.
The first time she'd seen Sammi, he'd come to tell the owners, Mary and Kellie, that his father had passed away. Since the family owned the building their shop was in, they would be dealing directly with him pertaining to their lease.
Since then, Autumn had sat on the sidelines and watched enough women go in and out of his bed to know the score and that she didn't want to play. Not with a man so emotionally unavailable.
It was easy to relegate Sammi to the friend zone, but she'd never stopped wanting him.
Autumn broke first, glancing at him.
He peeked sideways at her, flashing a smile full of sensuality. Her lady parts quivered but she held herself back.
Think. Don't feel.
"I was kind of hoping you'd agree," he said.
Autumn turned to face him. What? Did he think she'd blindly go along with whatever he said? She had the sudden urge to scratch one of his eyes out. "Grabbing a burger, seeing a movie, going to Cancun, those are all things I don't have to think about before saying yes. This, this is different!"
"Okay, I'm sorry. I'll explain," he said quickly, yet he lapsed into silence, staring out the windows looking onto the lake.
The momentary excitement fizzled, leaving her cold inside. There were perks to being friends with Sammi. He was wealthy, liked to party in style, and so long as a girl was beautiful or sexy or adventurous or entertaining, he'd extend an invitation and pick up the bill. Once you scratched the surface he was a good guy, deeply attached to his family, hardworking to a fault and generous. But none of that gave him license to use her.
Of all Autumn's sins, trading her body for what she wanted had never been one of them. She crossed her arms, suddenly wishing for more clothing, but the sweltering Texas heat made anything beyond abbreviated hemlines and skimpy tops uncomfortable.
Sammi's voice was deep, rich like melted chocolate when he spoke. His gaze dropped to the floor, as if he were seeing the past in his mind's eye. "When I was a kid I got sick. Doctors said one thing was wrong with me, others diagnosed me with something else. No one could figure it out. I went from being on the football starting line to a wheelchair—and no one could tell my family why."
Autumn's heart leapt into her throat. She'd had to watch firsthand a friend losing all mobility. Carly, their shop manager, had been paralyzed in an accident a year before. It still haunted them all, and watching Carly struggle was the worst of it.
Sammi's gaze flicked to her face, his demeanor serious. "I was diagnosed with Guillain-Barré syndrome. It's a disorder where the immune system gets confused and attacks part of the nervous system. I spent my middle school and most of my high school years being treated. I was in a wheelchair for about two years. They didn't think I would live to be an adult."
"Oh Sammi— I— Don't know what to say." She blinked back the moisture in her eyes.
Sammi caught her hand, pressing her knuckles to his lips. His touch was sweet, but the glance he cast her way was all playboy. "Say yes?"
"I don't understand how all of this is connected." Autumn pulled her hand from his grasp.
Use what's upstairs, girl.
"You drive a hard bargain." He sighed dramatically and turned to give her his full attention, all business. "The truth? In Jewish culture it's emphasized that men will get married and provide an heir. I honestly never thought I'd live this long, and maybe it's cheesy, but whatever. I always wanted to get married, have the white picket fence. All of it."
Autumn rocked forward on her toes, hanging on his words. There was a catch coming, she could sense it.
"I'm dying, Autumn. I have a limited amount of time left. Very few people get Guillain-Barré twice in their life and it looks like I'm that unlucky bastard. It's too late to do marriage the way my mother would want, but that's not what I want anyway. I want to enjoy the time I have left. Maybe knock some things off my bucket list. One of those is getting married. Now I know we're only friends and this is crazy, but I'm prepared to offer compensation. I'll take care of my medical expenses and hospice care. I just want to spend the good times I have left with someone I like. Someone who can have fun. I'm telling you, my lawyer and my doctor, no one else."
"But why me?" she blurted. Why not his ex-girlfriend? Or the long line of girls who wanted a chance to be with him?
Sammi blinked at her as if he didn't understand the question. "Why not you? You're my best friend. I have the best time with you. Who else would I want to spend the rest of my life with?"
Autumn's breath caught in her throat. They were perhaps the most beautiful words anyone had ever spoken to her, and for the most heartbreaking reason.
He wanted a friend, not a lover.
Sammi dropped to his knee again.
Oh god…
He dug in his pocket for a moment before producing a ring with a stone big enough to knock a linebacker on his ass.
This is happening…
"What do you say? Will you marry me?"
What do I say?
 [/blockquote]
Where to find Sidney Bristol
Website: http://sidneybristol.com/
Facebook Page: https://www.facebook.com/Sidney.Bristol.Romance.Author
Facebook Profile: https://www.facebook.com/Sidney.Bristol.Author?ref=tn_tnmn
Facebook Reader Lounge: https://www.facebook.com/groups/CheesecakeReaderLounge/
Twitter: https://twitter.com/sidney_bristol
Pinterest: http://www.pinterest.com/sidneybristol/
YouTube: https://www.youtube.com/user/SidneyBristolAuthor