Today's snippet o' smut is courtesy of Jerri Drennen's new release, Going Once, Going Twice, Dead, the first book in her Denver Homicide series.
Synopsis
Gruesome murder rocks art world
Hard-nosed Detective Dane Reynolds has met his match with up-and-coming sculptress, Simone Preston, the prime suspect in his current homicide. As he digs into her past and uncovers another dead ex, he questions if he has a Black Widow on his hands.
Simone is shocked when her ex-boyfriend is found strung to a piece of art she has up for auction, especially since he's not the only former flame to be murdered. Someone is setting her up, and with the help of the one man who could put her away, she's determined to find out who.
The two find themselves caught in a tangled obsession that could leave them in danger of losing their lives as well as they hearts.
[blockquote align=center]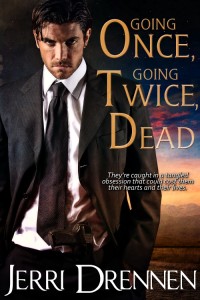 Simone returned her attention to him. "I'm sorry. I shouldn't have called you."
"Why wasn't she answering?" Dane wasn't sure why Simone was apologizing. How could she possibly know Laurie wasn't picking up on purpose?
Her attention darted around the room. "She was in the middle of something."
"The middle of what?" Why was she being so vague? He deserved better since she'd once again disrupted his sleep.
"Sex," she whispered, a rosy red color creeping up her neck.
"What?"
"She was having intercourse with someone."
Christ. Definitely a taboo subject, especially for them.
"Is she on her way home?" Dane's gaze roamed over her curves.
Simone stared at him through hooded lashes for what seemed like a lifetime. "She's spending the night with this guy."
Dane's mouth went dry. That meant Simone would be all alone tonight, a thought that had a certain body part signaling an urge.
"Does she do this a lot?" Why did his voice now sound as if a frog had gotten stuck in his larynx?
She shook her head, then ran her tongue across her bottom lip, her gaze connecting with his—violet eyes filled with desire.
That completely crumbled his reserve. He pulled her into his arms and crushed his mouth to hers. The intimate contact alone ignited a firestorm in the lower portion of his body. He refused to think about what might happen tomorrow, not when no woman had ever made him feel so alive. He cupped her cheeks and deepened the kiss, his tongue working its way between her lips, forcing Simone to open to him. Intense pleasure ripped through him and sent the floor teetering under his feet. While his tongue melded with hers, he threaded his fingers deep into her hair, the silky texture of the strands giving him as much enjoyment as her velvety tongue.
With their lips locked and desire flaring, her hands roamed over his pecs, kneading his chest muscles through the thin cotton of his dress shirt. Dane fought the impulse to tear the buttons away so he could feel her fingertips on his bare skin. Instead, his hands slid down her shoulder blades to cup her breasts, amazed that they fit perfectly in his palms.
Her soft, impassioned moans had his cock jerking upward and hardening. He'd never been so turned on in his life, and with a need beyond his control, he backed her against the door, lodging a leg between her thighs. The feel of her warm, yielding body heated his blood, and through her thin top, he thumbed her nipples, his mouth leaving hers to work hot kisses from her earlobe to her throat. At her pulse point, a rich, fruity fragrance inundated his senses, a delectable scent that made him grow even harder, almost painfully so against the fly of his pants.
He dipped his head, nipping at her breast, his hands working up the fabric, wanting to taste her. Beneath her shirt, she wore a peach-colored demi-bra made of silk and lace. With apt hands, he unhooked the front clasp and drew the material aside, the sight of her ivory flesh and pink-tinted nipples almost unhinging him.
She was perfect.
Too perfect.
He leaned in and lapped at the tip of one nipple, then sucked it into his mouth.
She reached out and cradled his head, holding him close as she arched her back in her attempt to give herself freely to him.
At that moment, all Dane could think about was getting between her thighs, screwing her senseless. With that as his purpose, he worked at the button of her waistband, his fingers fumbling to get it through the hole. Then he started on the zipper, sliding the fastener down each toothed edge, anticipation mounting.
His hand slipped between her legs to find soft curls and hot, wet flesh. He plunged a finger inside and explored her heat, her moans of ecstasy driving him crazy.
A sudden thumping brought him out of his hazy state and made him look up at Simone, whose eyes were glazed over with passion.
The sound got louder and shook the solid wood behind them.
Someone was knocking.
Christ.
"Simone, are you home?" a man's voice asked through the door.
Reluctantly, Dane slid his hand free from her and straightened.
She immediately turned away and pulled her clothes together.
A few cleansing breaths helped get some semblance of restraint over his body. He had to lose the obvious hard-on before she answered.
Dane had no doubt if they hadn't been interrupted, he'd be inside her now, and for some strange reason, he wasn't sure if he was disappointed or relieved. Making love to Simone would change everything. He'd have to turn the Draper case over to someone else since being with her would cloud his judgment. Then again, he wasn't sure his objectivity wasn't already compromised. He could still taste her, smell her intoxicating essence, and feel her incredible heat.
Damned if he wasn't in trouble. He was either going to have to stay away from her or screw her until he'd purged her from his system. Unfortunately, the latter was so much more appealing, yet it would go against everything he stood for. Justice wouldn't be served by that action, and it wouldn't be fair to Simone.
[/blockquote]
Where to find Jerri Drennan:
Website- http://www.jerridrennen.com/
Facebook- https://www.facebook.com/pages/Jerri-Drennen/627755040642857
Twitter: @jerri47 https://twitter.com/Jerri47