Love is… has been out for almost two weeks, and it's time for another sneaky-peek. Natasha Moore is with us to share a snippet from Her Royal Rendezvous, the short story she contributed to the anthology.
Synopsis – Her Royal Rendezvous – a Her Royal Romance short story
Love is…
reunited lovers risking their hearts for a second chance.
Two years ago, Liliana Gullotti broke off her engagement to Tony Barone, head of royal security, because his job took over his life and left no time for her. But when she sees him at the prince's wedding reception, she knows she's never gotten over him. And she agrees to meet him at their old rendezvous spot one last time.
Tony never stopped loving Lil, but has honored her request to stay away from her. But once she approaches him at her cousin's wedding, all bets are off. He'll do whatever he can to show her she means the world to him. And that a single rendezvous will never be enough.
Love is… Available at: Amazon, ARe, Barnes & Noble, iTunes & KOBO
[space_20]
[blockquote align=center]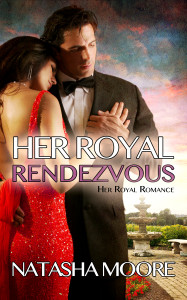 Liliana hurried away from Tony as fast as she could without appearing to run for her life. Had he been able to tell she was trembling? She hadn't thought it would be this difficult to see him again. She should never have approached him. Never talked to him or gotten close enough to smell his spicy scent that always brought back memories of snuggling against him and nuzzling the crook of his neck.
He'd missed her? Ha. Wasn't that just too bad.
It was time to get out of here. Away from the happy couple and the promises of forever floating in the air around them. She'd come to the party with her brother, Leonardo, but he appeared to be engrossed in conversation with a leggy blonde who looked a lot like the bride. She must be Mia's cousin, Birgitte, the princess of Stagatland. The way her fingers were tangled with Nardo's, Liliana doubted her brother would be interested in getting out of here any time soon. She'd just stop by the table and tell him she was leaving.
She had reached the edge of the dance floor when someone grabbed her arm. Whirling around, she found herself in Tony's arms.
"Dance with me, Liliana." His voice was soft and deep and seductive.
She didn't even try to resist him. Liliana wrapped her arms around his neck and melted against him.
She'd always loved dancing with Tony. There was something about resting her head on his chest and being enveloped by him that had always made her feel safe and protected. Not that she needed to be protected from anything.
She just liked being in his arms. That hadn't changed. He hadn't changed. Or had he?
"I thought you were working," she murmured as the musicians slid from one love song to another.
"I'm taking a break." The warm amusement in his voice relaxed her even more. "My team has everything covered."
"Oh." They moved together seamlessly, as they always had. Thighs brushing. Hips shifting as they danced to a song about love lost and found. Of wasted time and seizing the moment. His breath was warm against her cheek as he leaned down to whisper in her ear.
"Meet me in the garden, Lil. The bench in the center. You know the one."
"Of course, I know the one." She swallowed, but didn't lift her head from his shoulder. Her heart raced eagerly. "I just don't know if it's a good idea."
His lips tickled her ear. "It's a great idea."
It was tempting. He was tempting. Her body wanted to seize the moment but her brain reminded her of the reasons she'd left. "I can't. I'm on duty in the morning."
"Then don't keep me waiting."
Now she did lift her head, narrowed her eyes as she looked up at him. "Me? Keep you waiting?"
"I know." He stroked her hair softly until she rested her head back down on his shoulder. Their dancing was now not much more than swaying in place. "I know."
Before she could say anything else, the song ended. Tony eased away when it was announced that the bride and groom would be departing soon. He grasped her hands, caught her gaze. "Midnight in the garden."
Liliana found herself nodding before Tony turned back to the job that was taking him from her once again.
[/blockquote]
[space_20]
Where to find Natasha Moore
Website: http://www.natashamoore.com/
Facebook: https://www.facebook.com/natashamooreauthor
Twitter: https://twitter.com/natashamoore