Kinky Clarinetist Cripples Nipples
This week I thought I'd share a little smut from a current work in progress. In One Gold Knot, Dominant Cord, Book 2, kinky clarinetist, Wilson Kennedy, falls for vanilla piano teacher, Hildy Klein, at her uncle's wake. A word of warning, this excerpt is straight from the first draft and has not been edited.
[blockquote align=center]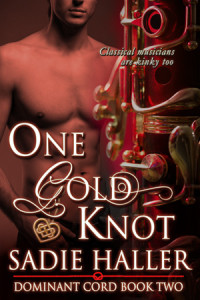 Hildy closed her eyes and gave Wilson control of her body. He spread her legs and bent them so her knees were up and her feet were flat on the mattress. She wanted to come so badly, she didn't dare move.
"It looks like my good girl has a very leaky pussy. I'll mop the mess up in a minute, and I do look forward to plugging that leak sometime very soon. But first, I have two very luscious tits to work over."
Hildy's eyes shot open when her nipples caught fire, and the hiss she tried to hold back quickly became a moan. Her pussy throbbed, and she could feel moisture dribbling towards her asshole. Wilson was grinning at her as he had a nipple trapped between the thumb and forefinger of each hand. He held tight and pulled them up as far as they would go. "That's my very good girl. I had a feeling you'd like this." He pinched and pulled harder. "Would you like to feel my mouth on your nipple, love?"
"Yes please."
"Such pretty manners." Wilson released one nipple before leaning in to tease it with the tip of his tongue. Hildy whined in frustration.
A white flash of pain shot through Hildy as Wil pinched her nipple harder. He lifted his head, his eyes flashing. "Unless you want to learn a lesson in patience, you may want to stop whining and lose the pout. You'll get your orgasms, but only when and how I want to give them." He lowered his head and caught her free nipple hard between his teeth. Her pussy pulsed, and with her nipple dragging through his teeth as he lifted his head, she was close to coming.
[/blockquote]