Love is… Anthology to Support Literacy
On August fifth, the LOVE IS… anthology will release at e-tailers near you! A collection of 300,000 words, and more than 40 authors, covering all heat ranges and genres, there's something in here to appeal to everyone. And all of the proceeds are going to charity — specifically, to:
Reach out and Read which prepares America's youngest children to succeed in school by partnering with doctors to prescribe books and encourage families to read together.
Today, we are celebrating with a cover reveal for the anthology webring style. Participating authors are revealing the anthology cover, and ALSO sharing their individual story covers. (Individual stories may be released on their own at a later date.)
Anyone who comments on each of the blogs (listed here, at http://www.daynahart.com/coverlist/) will be entered to win a copy of the anthology when it's released. And one commenter here at my blog will ALSO be entered. So please, when you're done looking at the cover here, click the link at the bottom of the post for the next author's blog, or continue to The List to find more authors to visit. Thanks!
So, here they are:
LOVE IS:
a collection of more than 40 authors and 300,000 words.




      Love is… …forty stories of first loves, friends to lovers, and the heat of the moment. Join forty authors, including multiple New York Times and USA Today bestsellers, as they take you on a romantic ride through time and space. From the dazzling ballrooms of Regency historical romance to contemporary love from sweet n' dreamy to kinky n' steamy, to the wide open frontier of science fiction romance and magical worlds of far away fantasy realms, sample the best that romance has to offer! Every short story is the perfect candy-sized nugget to read over a cup of coffee or before falling asleep at night.



(click image for large size)
and my own contribution to Love is …
A Capella
Love is… navigating the complications together.
After receiving upsetting news, rape survivor, Mac Wallis, hides her distress from her Dom because she is worried she is just one new piece of emotional baggage away from being dumped.
When Finn Taylor returns home unexpectedly for a surprise play session and discovers his submissive has been keeping secrets, he spends the day showing her how much she means to him.
[blockquote align=center]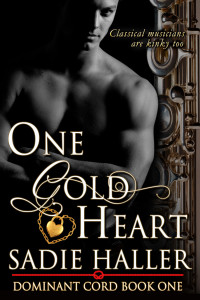 The Doms of wind quintet, Dominant Cord, play hard together, both on stage, and in the dungeon. Mac and Finn's story begins with One Gold Heart, but A Capella can be read on its own or at any point within the Dominant Cord series
Here's a sneaky peek of the opening bar of A Capella:
"Freeze!"
Mac jumped up, determined not to panic as she dropped the large piece of cherry pie she was about to bite into back on the plate. She glanced over her shoulder and scooted as far away from the table as she dared, then dropped her robe to the floor, and spread her arms and legs wide. Damn that man and his dastardly, one-sided perversion of freeze tag. How did he always seem to catch her at the worst possible moments? Last time, she'd been just about to step into a nice hot bubble bath when he struck. He was supposed to be at Sully's, and she'd been looking forward to pie-therapy since she'd opened that letter yesterday.
  [/blockquote]
Please also feel free to visit our Facebook page, where covers will be posted throughout the day!
Click here for the lovely and talented Vivienne Westlake
Disclaimer: Must be 18+ to enter. The odds of winning depend upon the number of participants. Contest void where prohibited by law. It is the participant's responsibility to check the blog to see if their name is announced as a winner, and contact Sadie Haller.com in order to claim the prize. Prizes must be claimed within 7 days of contest winning announcement.  Not responsible for lost/stolen mail.