One Gold Knot – it's about time.
I know, I've been totally neglectful, but I have a good excuse. I was finishing One Gold Knot. The digital edition is now uploaded and releases on November 26, 2014.
Sadie's Sunday Snippet O' Smut will be back starting in December.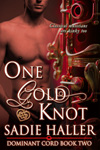 She didn't do relationships. She didn't even do all night.
After years of avoiding her teenage crush, Hildy Klein is shocked to come face to face with Wilson Kennedy.
Her uncle's wake isn't the place to unravel all the ways that Wilson could leave her emotionally vulnerable and exposed, yet his gentle persistence is impossible to ignore.
But Wilson is no longer that boy in her fantasies, and now Hildy must decide if she will give up control and commit to the protective, kinky Dom he's become.
Release day is November 26, 2014
  Amazon, iTunes, Barnes & Noble, and Kobo
I've also been involved in the multi-author Christmas boxed set, Let it Snow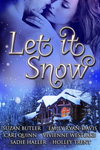 Six steamy holiday romances, including offerings by New York Times and USA Today bestselling authors, will keep you warm through winter's coldest nights, so Let it Snow.
O Christmas Three – Suzan Butler
When Brianna Zane confesses to her husband Garrett she wants a threesome with his best friend, it awakens feelings he's long tried to forget. Seducing Leo Vasquez will test their relationship, reveal old secrets, and potentially tear them apart. While there may be room for Leo in bed, there may not be room for a third in their marriage.
All He Wants – Emily Ryan-Davis
All he wants for Christmas is her…
After a long tour of duty abroad, U.S. Marine Captain Keith Moss is more than ready for some festive R&R, but first he must complete the most important mission of his life: convincing his best friend's little sister to give him the gift of her heart.
Jingle Ball – Cari Quinn
This year, rocking the office holiday party has taken on a whole new meaning.
All receptionist Wendy Stanton wants for Christmas is a chance for a relationship with her sexy, dominant boss outside the boardroom. But his secrets—and hot encounters including her other boss—are complications she never expected.
A Marquess for Christmas – Vivienne Westlake
Notorious gambler and pugilist, the Marquess of Kittrick refuses to settle down—until he loses his memory on a daring rescue mission. Violet Laurens is no cowering damsel in distress, and Kit soon finds that the widow can match him at any challenge. But falling in love is the hardest challenge of all.
One Gold Heart – Sadie Haller
When reclusive oboist, Mac Wallis agrees to replace an injured friend for the Christmas concert season, she gets more than she bargained for when she meets Dom, Finn Taylor and has to decide whether to take a chance or return to her life of seclusion.
Three Strikes – Holley Trent
The one woman the "Dark Dom" Max Fletcher wants is the one who doesn't want him back. But magic has been known to happen during the Den of Sin's Winterball. There, if he can warm his sometime-submissive Giselle's heart for the night, he may be able to win her for good.
Release day is November 28, 2014 and will be 99 cents until Monday December 1, 2014.
Amazon, iTunes, Barnes & Noble, and Kobo