Love is… releases on Tuesday, and each Sunday in August, Sadie's Sunday Snippet o' Smut will feature one of the very talented authors who participated in the project. Cass Curtis, who also writes as Cassandra Curtis will start us off with the cover and synopsis from her short story, When Eva Gets Even, followed by a taste of Compulsion.
Synopsis – When Eva Gets Even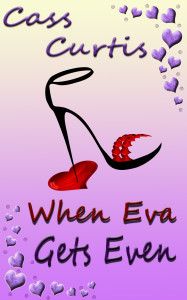 Romantic comedy, plus-sized heroine, sexy nerd hero, and handcuffs.
Love is all about trust. So when Eva discovers a receipt for racy lingerie several sizes too small for her in her lover's coat pocket, she's determined to learn the truth, no matter how much it might break her heart.
Embarrassed by his family's thieving ways, Kevin is wary of telling Eva about them, knowing from past mistakes it could jeopardize any possibility for a long lasting relationship. He vows this time will be different. Besides, what Eva doesn't know won't hurt her.
Add in a kleptomaniac with a penchant for red and black lace, a best friend willing to loan out her navy leather thigh high boots, and one seriously sexy nerd who may or may not be cheating on Eva, and it's only a matter of time when Eva gets even.
Love is… Available at: Amazon, ARe, Barnes & Noble, iTunes & KOBO
[space_20]
Synopsis – Compulsion
Lindsay Dannon has a secret. While she hides behind her plain and proper image at work, a wanton woman with a rich fantasy life lurks beneath the surface. The thrill of sex in public places, and the risk of exposure, is a compulsive itch she knows only one man can scratch—her boss, Jack Randolph.
The company's "no tolerance" policy on interoffice dating is the only thing stopping her. Good thing Jack created the rules, because he's determined to make all of Lindsay's sexual fantasies come true…
[blockquote align=center]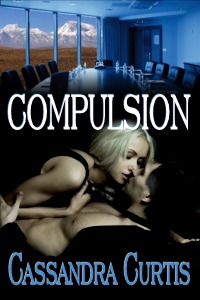 December 23rd, the holiday office party…
LINDSAY DANNON knew trouble. It followed her like a bloodhound, scenting the air at any hint of romance, even a day dreamy type of affair that only existed in her mind.
She admired the object of her desire from across the crowded room. The man was too handsome for her peace of mind. No—don't look at him. You'll only make yourself crazy. Lindsay slid her last drink ticket at the man behind the cash bar, hoping another glass of liquid courage would ease the tight knot in her stomach.
Life was full of regrets. Did she really want this moment to become a missed chance she'd look back on when she was fifty? Lindsay downed the alcohol in one long, burning swallow. Tears watered her eyes as she coughed. Served her right for ordering whiskey neat instead of eggnog. She tucked a length of her pale blond hair behind her ear. Now or never, Linds. You can do this.
She watched as Jack Randolph, surrounded by his executive team, excused himself, a drink in one hand, cell phone to his ear as he exited the party. Heat blossomed in her midsection and spread throughout her body courtesy of both Jacks. Now that she'd finally worked up her nerve to approach the man of her dreams, he'd left.
Lindsay followed him down the hallway, telling herself she wasn't a stalker. So she was a little fixated on the boss. It didn't mean she planned to follow him home and camp out under his window. At least not tonight, she thought with a smile.
Dead end. Now what? Where did he go? Maybe it was best she hadn't found him. How would she explain her ill-conceived actions? Lindsay supposed she could blame it on the over-the-counter cold meds she'd taken that morning, then the two drinks at the party. But that didn't explain this odd compulsion she had to touch Jack Randolph. That started the first day they met.
Distant male voices grew louder and as they came closer, Lindsay recognized Edward Edmonds, the company's Vice President of Human Resources, talking with another man she didn't know. She ducked into one of the small conference rooms, peering from behind the partially closed door, and watched as they continued down the hallway. Now there goes a man I have no desire to touch.
Edmonds had been the one to hire her, saying how the company liked stealing good employees from their competition. She'd pasted on a smile, inwardly cringing at his over the top smarmytude. She knew she wasn't being fair. He'd always been professional and polite to her, but the man gave off a weird vibe, setting her creep-o-meter radar on alert. At least now he was out of sight and hadn't seen her.
"That was close," Lindsay muttered under her breath.
"Ms. Dannon."
Lindsay jumped, startled by the deep male voice behind her. Her body turned sideways into a wall of muscled perfection, while her elbow's trajectory aimed straight for the hand still holding a whisky on the rocks. Time slowed as she observed Jack's half-full glass upend on his pale yellow sweater. Noooooo!
Panicked and mortified, she swiped at the brown stain marring the cashmere, making matters worse. The blotch now resembled a Rorschach test. "I'll pay for the dry cleaning. I'm so sorry, Mr. Randolph."
"It's okay, Ms. Dannon. Don't worry about it."
Her fingertips brushed against the wet sweater and by accident, rubbed a stiff male nipple. She knew she should stop immediately, but some demon imp prodded her to keep caressing the tight point. He took her hand in his and pulled it away from the sweater and her tempting target.
"Trust me it'll be fine," he paused as he stared down at her. "My assistant Tegan said he brought you to work this morning."
"Yes, my car's in the shop."
"He just called and asked if I would be willing to take you home after the party… unless you've made other arrangements?"
"No! I mean, no, I would appreciate the ride." Stop staring at his chest!
"Good. Be ready to leave in ten minutes. Now, if you'll excuse me…"
Lindsay took a deep, calming breath as he walked back to the party. Seriously, did she just flick her boss' nipple? OMG! What was wrong with her? She'd wanted to pull the sweater over his head and lave the male nub with her tongue. She groaned at the mental image.
The man was founder and CEO of Randolph Systems, a guy known for being ruthless, arrogant, and tough. Not a touchy-feely type. Yet he'd offered to help an employee home. The man had hidden depths, and more than anything, she wanted to be the one to explore them.
After freshening up in the women's restroom, she returned to the party room and retrieved her coat. She spotted Jack putting on his driving gloves. He caught her glance, nodded to her, and then guided her through the lobby to the small parking lot opposite the front entrance.
The blustery winter wind howled, while the snow already on the ground swirled in the air. Lindsay pulled the coat's hood over her head and shivered. After a year of living in Colorado, she still wasn't used to the freezing cold or the crazy snowfall. The black leather trench coat Jack wore seemed too thin to protect against the elements. At least he'd wrapped a scarf around his neck.
Snowflakes stuck to his black hair like tiny stars glistening under the overhead parking lights. She had a mad impulse to brush the snow away and kiss the fine silver at each temple. Her heart skipped at the tender notion.
He stood with the passenger door open, waiting for her. An old-fashioned gesture, but one she liked. Jack Randolph might be rough around the edges, but he had manners.
The drive to her apartment was silent, but she could sense the sexual tension and knew it couldn't be all one-sided.
"Thank you for the ride home," she whispered, leaning toward him, debating if she should act cool, or give in and let him know how much she wanted him.
Between the alcohol fogging her brain and her hormones reminding her she hadn't been with anyone in over two years, Lindsay decided now was her best chance to make one of her fantasies a reality. Right there. So she took the chance and caressed his cheek, planting a passionate kiss on his lips. Nudging until she gained entrance, her tongue slid beneath his as he finally kissed her back.
Lindsay stroked the muscled thigh of his leg through the fabric of his dress slacks. Inching her hand closer to the prize until her fingers traced the contour of his hard, long cock, she tugged at the straining zipper.
It was heaven and hell. Heaven because she'd tasted his lips and it was everything she'd imagined, and hell because after two minutes of bliss and heat, he pushed her away.
"I'm sorry, I don't know what came over me. It won't happen again. I promise," Jack apologized, appearing almost as embarrassed as she was that moment. Why, oh why had she taken the chance? She should have known better. A man like Jack Randolph wouldn't be interested in her.
The small hurt at his words made her chest ache. I was what came over you. I want you and you sure seemed to want me! Lindsay wished she could say the words.
"I think it would be best if we just forgot this ever happened." Jack gripped the steering wheel, his expression wooden. He might forget this night, but she never would.
[/blockquote]
[space_20]
Where to find Cassandra Curtis
Website: http://cassandracurtis.com/
Blog: http://cassandracurtis.blogspot.com/
Facebook: https://www.facebook.com/cassandra.curtis.author
Twitter: https://twitter.com/Cass_Curtis
Pinterest: http://www.pinterest.com/cassandracurtis/
Sign up for her New Releases Alert on her website and blog.
BIO: Author of the bestselling paranormal erotic romance series Shifting Tides and finalist in 2007's EPIC awards, Ms. Curtis always loved reading tales of adventure, romance, mystery, and magic. Then one day she decided to try her hand at writing fiction. Penning both erotic romance under the name Cassandra Curtis, and romantic comedy as Cass Curtis, humor is a common thread in all her books.