LATEST RELEASE: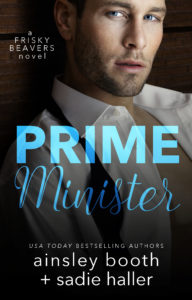 Prime Minister (Frisky Beavers, Book 1)
A kinky Prime Minister, a vanilla intern, and a scandal that shouldn't feel so right or cost so much.
Gavin:
Ellie Montague is smart, sensitive, and so gorgeous it hurts to look at her. She's also an intern in my office. The office of the Prime Minister of Canada.*
That's me. The PM.
She calls me that because when she calls me Sir, I get hard and she gets flustered, and as long as she's my intern, I can't twist my hands in her strawberry-blonde hair and show her what else I'd like her to do with that pretty pink mouth.**
Ellie:
How much I like the PM varies on a daily basis. He's intense, controlling, and a perfectionist in every way—and he demands the same of his staff.
How much I want him never wavers.
There's something about him that tugs at me deep inside, and makes me wish that just once he'd cross the line in a late night work session. I'd take that secret to the grave if it meant I got a taste of the barely restrained beast inside him.***
FOOTNOTES:
* This is a fictional erotic romance. No prime ministers or interns were harmed in the making of this book.
** Except it's a BDSM romance, so they were hurt a little.
*** Spoiler alert: she gets more than a taste. And she likes it.
Amazon | Apple | Barnes & Noble | Google | Kobo | Print Edition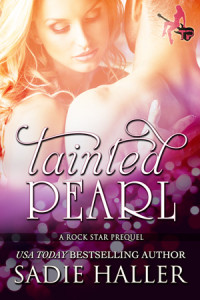 Tainted Pearl – A Rock Star Prequel
Lust at first sight has never been a problem for Doug Fraser before, but something about Biddy O'Mara screams "hands off". Except the private, mysterious musician is also the sexiest, most captivating woman he's ever crammed into close quarters with.
Biddy can't afford any distractions while on a month long eco-activism island adventure. The rock star is incognito for a very good cause, but the irresistible camera operator quickly proves a big, bad complication.
A fling is inevitable. But Doug's not relationship material, and the more he gets to know Biddy, the more he realizes she's the type of girl you take home to meet your mother—even if you don't know all her secrets.
Amazon | Apple | Barnes & Noble | Google | Kobo  | Print Edition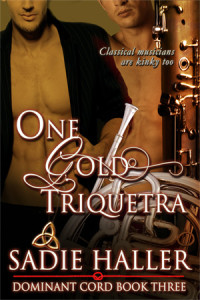 One Gold Triquetra (Dominant Cord, Book 3)
A decade ago, a bad play-date turned composer Ella Hudson off BDSM.
Now she's been offered a performance opportunity too good to pass up, but it means working closely with Jackson and Griffin–world class musicians, lovers, and Doms intent on adding her to their relationship.
While Ella struggles to deny her true desires, maintaining her vanilla facade becomes increasingly difficult as the men re-introduce her to a world she'd written off.
Amazon | Barnes & Noble | Google Play | Kobo | Print Edition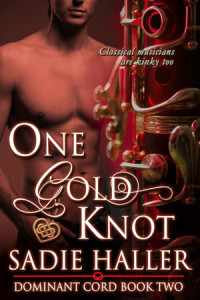 One Gold Knot, Dominant Cord Book 2
She didn't do relationships. She didn't even do all night.
After years of avoiding her teenage crush, Hildy Klein is shocked to come face to face with Wilson Kennedy.
Her uncle's wake isn't the place to unravel all the ways that Wilson could leave her emotionally vulnerable and exposed, yet his gentle persistence is impossible to ignore.
But Wilson is no longer that boy in her fantasies, and now Hildy must decide if she will give up control and commit to the protective, kinky Dom he's become.
Amazon | Apple | Barnes & Noble | Google Play | Kobo | Print Edition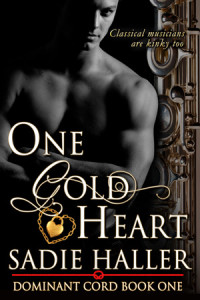 One Gold Heart, Dominant Cord Book 1
Finn Taylor is an asshole. So why does he keep showing up in Mac's late-night fantasies as the Dom of her dreams? She can't even ignore him, because she's stuck working with the fellow musician for the Christmas concert season.
Mac Wallis is a mess, and Finn can't fall for a submissive who's so damaged she needs medication just to get through a performance. But he's drawn to the beautiful oboist, even as he keeps pissing her off. He can't resist trying to take care of her–in every way.
 Amazon | Apple | Barnes & Noble | Google Play |  Kobo | Print Edition