LATEST RELEASE: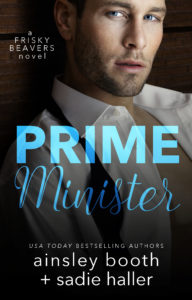 Prime Minister (Frisky Beavers, Book 1)
A kinky Prime Minister, a vanilla intern, and a scandal that shouldn't feel so right or cost so much.
Gavin:
Ellie Montague is smart, sensitive, and so gorgeous it hurts to look at her. She's also an intern in my office. The office of the Prime Minister of Canada.*
That's me. The PM.
She calls me that because when she calls me Sir, I get hard and she gets flustered, and as long as she's my intern, I can't twist my hands in her strawberry-blonde hair and show her what else I'd like her to do with that pretty pink mouth.**
Ellie:
How much I like the PM varies on a daily basis. He's intense, controlling, and a perfectionist in every way—and he demands the same of his staff.
How much I want him never wavers.
There's something about him that tugs at me deep inside, and makes me wish that just once he'd cross the line in a late night work session. I'd take that secret to the grave if it meant I got a taste of the barely restrained beast inside him.***
FOOTNOTES:
* This is a fictional erotic romance. No prime ministers or interns were harmed in the making of this book.
** Except it's a BDSM romance, so they were hurt a little.
*** Spoiler alert: she gets more than a taste. And she likes it.
Amazon | Apple | Barnes & Noble | Google | Kobo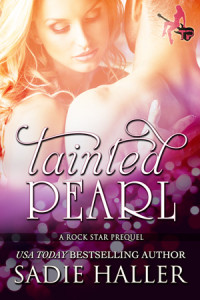 Tainted Pearl – A Rock Star Prequel
Lust at first sight has never been a problem for Doug Fraser before, but something about Biddy O'Mara screams "hands off". Except the private, mysterious musician is also the sexiest, most captivating woman he's ever crammed into close quarters with.
Biddy can't afford any distractions while on a month long eco-activism island adventure. The rock star is incognito for a very good cause, but the irresistible camera operator quickly proves a big, bad complication.
A fling is inevitable. But Doug's not relationship material, and the more he gets to know Biddy, the more he realizes she's the type of girl you take home to meet your mother—even if you don't know all her secrets.
Amazon | Apple | Barnes & Noble | Google | Kobo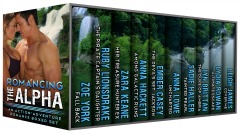 HOT NEW adventure romance super bundle. Spice up your summer with 10 never-before-published action-adventure romance stories by bestselling authors. Kick butt and fall in love with sexy Navy SEALs, treasure hunters, mercenaries, and more. Let the adrenaline flow!
Zoe York — FALL BACK
Ruby Lionsdrake — THE PIRATE CAPTAIN'S DAUGHTER
Zara Keane — HER TREASURE HUNTER EX
Anna Hackett — AMONG GALACTIC RUINS
Ember Casey — THE DEVIL'S SET: JACKSON
Anna Lowe — UNCHARTED
Sadie Haller — TAINTED PEARL
Lyn Brittan — THE DUKE OF AMBRA
Lydia Rowan — ULTIMATE ESCAPE
Leigh James — COVER ME
THIS BOX SET HAS RETIRED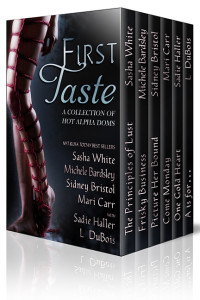 First Taste: A Collection of Hot Alpha Doms, First in Series Romances
Welcome to your FIRST TASTE of forbidden desire. This erotic romance collection introduces six hot series of the alpha Dominants and the sassy submissives who love them. These six previously published books of varying lengths open the doors into new worlds of temptation. What's your flavor?
The Principles of Lust, Lush 1 – Sasha White
Frisky Business, Frisky Series 1 – Michele Bardsley
Picture Her Bound, Bayou Bound 1 – Sidney Bristol
Come Monday, Wild Irish 1 – Mari Carr
One Gold Heart, Dominant Cord 1 – Sadie Haller
A is for…, BDSM Checklist 1 – L. Dubois
THIS BOX SET HAS RETIRED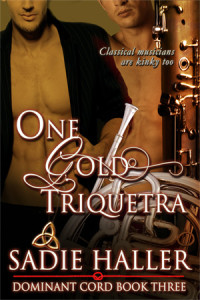 One Gold Triquetra (Dominant Cord, Book 3)
A decade ago, a bad play-date turned composer Ella Hudson off BDSM.
Now she's been offered a performance opportunity too good to pass up, but it means working closely with Jackson and Griffin–world class musicians, lovers, and Doms intent on adding her to their relationship.
While Ella struggles to deny her true desires, maintaining her vanilla facade becomes increasingly difficult as the men re-introduce her to a world she'd written off.
Amazon | Barnes & Noble | Google Play | Kobo | Print Edition
The SEVEN FIRST KISSES multi-author anthology represents some of the best steamy-to-scorching contemporary romance available to Kindle Unlimited subscribers. While all the stories kick off series, they are self-contained love stories–Happily Ever Afters guaranteed! Like our books? The authors in the set have more stories available for FREE through Kindle Unlimited!
FALL OUT (SEALs Undone #1) by ZOE YORK
LOVE AND SHENANIGANS (Ballybeg #1) by ZARA KEANE
ONE GOLD HEART (Dominant Chord #1) by SADIE HALLER
FESTIVE SEDUCTION (Holiday Engagements #1) by SIDNEY BRISTOL
WHERE THE HEART BREAKS (Willoughby Inn #1) by IVY SINCLAIR
QUEEN OF HEARTS: RHAPSODY by KATIE DE LONG
LOVE IN REALITY (Blackjack Quartet #1) by MAGDALEN BRADEN
THIS BOX SET HAS RETIRED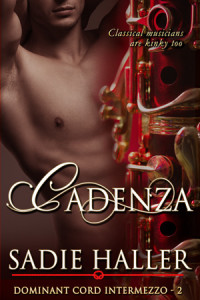 Cadenza – Dominant Cord Intermezzo – 2
Using your safeword is not a sign of weakness.
After growing up starved for affection, Hildy Klein will take whatever her Dom dishes out, even if it pushes her into dangerous waters. She doesn't want to give him any reason to hold back — the very thought makes her chest hurt.
When Wil Kennedy's sub fails to safeword during play, he's alarmed. For both their sakes, he needs to drive home the importance of limits without harming her in the process.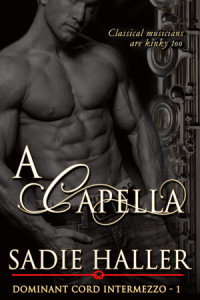 A Capella, Dominant Cord Intermezzo – 1
Love is… navigating the complications together.
After receiving upsetting news, rape survivor, Mac Wallis, hides her distress from her Dom because she is worried she is just one new piece of emotional baggage away from being dumped.
When Finn Taylor returns home unexpectedly for a surprise play session and discovers his submissive has been keeping secrets, he spends the day showing her how much she means to him.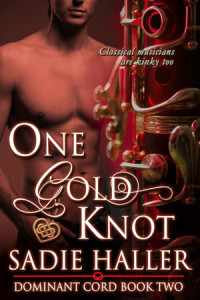 One Gold Knot, Dominant Cord Book 2
She didn't do relationships. She didn't even do all night.
After years of avoiding her teenage crush, Hildy Klein is shocked to come face to face with Wilson Kennedy.
Her uncle's wake isn't the place to unravel all the ways that Wilson could leave her emotionally vulnerable and exposed, yet his gentle persistence is impossible to ignore.
But Wilson is no longer that boy in her fantasies, and now Hildy must decide if she will give up control and commit to the protective, kinky Dom he's become.
Amazon | Apple | Barnes & Noble | Google Play | Kobo | Print Edition
Let it Snow: Six Spicy Winter Romance
Six steamy holiday romances, including offerings by New York Times and USA Today bestselling authors, will keep you warm through winter's coldest nights, so Let it Snow.
O Christmas Three – Suzan Butler
All He Wants – Emily Ryan-Davis
Jingle Ball – Cari Quinn
A Marquess for Christmas – Vivienne Westlake
One Gold Heart – Sadie Haller
Three Strikes – Holley Trent
THIS BOX SET HAS RETIRED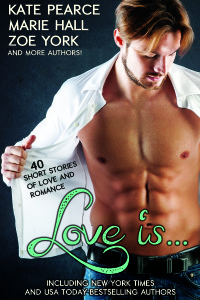 Love is…
…forty stories of first loves, friends to lovers, and the heat of the moment. Join forty authors, including multiple New York Times and USA Today bestsellers, as they take you on a romantic ride through time and space.
From the dazzling ballrooms of Regency historical romance to contemporary love from sweet n' dreamy to kinky n' steamy, to the wide open frontier of science fiction romance and magical worlds of far away fantasy realms, sample the best that romance has to offer! Every short story is the perfect candy-sized nugget to read over a cup of coffee or before falling asleep at night.
This anthology has been retired.
Click on the participating authors below to view their available titles.
S.M. Butler, Kate Pearce, Marie Hall, Zoe York, Kat Cantrell, Sidney Bristol, Cassandra Curtis, Keri Ford, Sadie Haller, Faye Hunter, Crystal Jordan, Jennifer Lewis, Molly McLain, Mima, Natasha Moore, A. Catherine Noon, Rachel Wilder, Elle Rush, Jessica Stone, Holley Trent, A.J.Vale, Elle Wylder, Clarice Wynter, Sabrina Darby, Bonnie Dee, Jennifer Haymore, Vivienne Westlake, Elianne Adams, Melisse Aires, Mahlee Ashwynne, Sophie Avett, Jennifer Blackstream, Sela Carsen, Cate Dean, Grace Draven, Hailey Edwards, Dayna Hart, Elise Logan, Lyra Marlowe, Tina Moss, Yelena Casale, Cate Rowan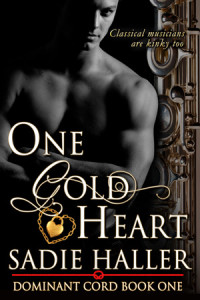 One Gold Heart, Dominant Cord Book 1
Finn Taylor is an asshole. So why does he keep showing up in Mac's late-night fantasies as the Dom of her dreams? She can't even ignore him, because she's stuck working with the fellow musician for the Christmas concert season.
Mac Wallis is a mess, and Finn can't fall for a submissive who's so damaged she needs medication just to get through a performance. But he's drawn to the beautiful oboist, even as he keeps pissing her off. He can't resist trying to take care of her–in every way.
 Amazon | Apple | Barnes & Noble | Google Play |  Kobo | Print Edition