WELCOME NEW READERS!
I'm so glad you've found my website!
Click here (or scroll down) to join my mailing list
LATEST RELEASE: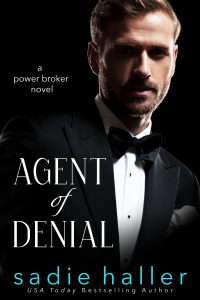 Agent of Denial (Power Brokers 2)
Alasdair:
She's not for me.
While a piece of me wants to wrap her in my arms and keep her safe, I know myself.
My dark sexual appetite, my feral underbelly.
If she gets too close, she'll discover a beast who will push her right to the very edge of sanity.
Katie:
After escaping a nightmare, I swore I'd never let myself be vulnerable again.
But then physical needs take over.
In a world with well over three billion men, there has to be one for me.
Not that it matters.
No man wants another's broken toys.